Tragedy
Tragedy as defined above is a situation that is painful, seemingly senseless and where nobody wins.
That's what happened this week when a four year old child fell into the enclosure of a group of Mountain Gorillas at a Cincinnati zoo. As a result the alpha male gorilla, Harambe, was shot dead and the child was rescued.
Even in that short summary of events I can hear reader's exclamations of consternation.
Because there are so many opinions about what happened. The internet is flooded with them. Here are some of the most common ones:
The mother should have been looking after her child more carefully.
The Gorilla saved and/or was protecting the child.
The zoo should have tranquilised rather than shot the Gorilla.
The zoo should have better enclosures.
Animals should not be kept captive.
These are very emotional points for many of the people who have commented online. But ultimately I think the point is that this is the epitome of a tragic event. A sequence of circumstances happened which led to a situation which would have been bad in a number of ways.
The Parents should have been watching the child
Yes the parents should have been keeping a closer watch on their child in the moments that counted. I am sure they will be the first to agree. Young children are little more than animals themselves and it is almost impossible to predict what they are going to do next. These would not be the first parents that lost sight of their child at a crucial moment. I have heard of many drownings and near drownings as well as close calls with vehicles etc. The reality is that the parents, like all of us, are imperfect. Shit happens!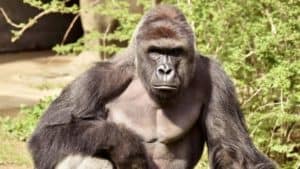 The Gorilla was protecting the child
No. The Gorilla was investigating an unusual event in it's otherwise boring existence. As the alpha male, Harambe's role is to protect the band (yes, the internet tells me a group of Gorillas is known as a band -who knew). Therefore Harambe was determining if this creature trespassing on their turf was any sort of threat. Today more than ever in history we tend to anthropomorphise animals – give them human characteristics. I think we can blame Disney for this, although some good has come of it in terms of conservation efforts.
The reality is that Nobody has any idea of what Harambe might have done with the child.
The Zoo should have better enclosure security
Yes, of course. But the reality is that nothing like this has happened before. We build things to the best of our knowledge with the best intentions, but it is through events like this that things are upgraded and improved. The aviation industry is built on this philosophy. With every crash air travel gets safer. But that doesn't mean anyone wanted that airplane to crash.
The Zoo staff should have tranquilised the Gorilla
No. A tranquiliser  may have taken 5-10 minutes to take effect. This would have left the child in a precarious position for that much longer. Also what if Harambe was tranquilised, and started to feel "strange" could he have decided that it was this small creature who has poisoned him, and kill it in order to protect the rest of the band? Who knows? But it is a possibility.
It is worth noting that the protocol was followed and the animals were called back into their sleeping enclosures. All the gorillas complied except Harambe. Had he complied then the shot would not have been taken.
And put yourself in the shoes of the mother watching all of this. You would probably be thinking "screw the gorilla, save my child!" Not because you are callous, cruel or hate gorillas. But because it is your child in danger.
Animals Shouldn't be kept in captivity
Agreed. In a perfect world. But if gorillas were not kept in captivity, then they would likely be extinct or pretty close to extinct by now. Given the choice between extinction or captivity, I would probably choose captivity.
Conclusion
The whole event sucks. It sucks that it cost the life of Harambe, who was just minding his own business until the kid fell into his home. It sucks for the parents who are probably upset enough at what almost happened without then having the vitriol of the internet turned on them. It sucks for the zookeeper that had to put one of their own animals down in a tense pressure situation. It sucks for the band of gorillas that have lost their leader.
I know that you feel something about this story. It is good to feel something. But don't let your feelings cloud reality. Both the reality of what happened, and the reality of how your comments and sound bites are affecting other people.