Conversations for Change Part 2: Depression
Conversations for Change was born out of my experience this year of talks at TEDx Queenstown and TEDx Auckland that addressed situations that affect us all in some way, but which are not discussed. The hope is for these posts is to spark conversation and hopefully demystify the topics as well as breaking the unspoken cultural taboo that seems to surround them.
In part one I wrote of my experiences with domestic violence as a child. In part two I am writing of my experience of depression as an adult.
At TEDx Auckland this year Matt Shirtcliffe and Cori Gonzalez-Macuer both spoke of the experience of having someone close to them commit suicide. Joseph Driessen spoke of the many boys who took their own lives over the period he was a principal, and his subsequent research and efforts to address the problem. Indeed it seems as though New Zealand faces an epidemic of depression, from rural and agricultural workers to teenagers.
Much of this seems to come down to general misunderstanding of the forces at play, what mental illness and depression actually are. Sir John Kirwin and Mike King are doing good work here, and have made an impact, although it is obvious more needs to be done.
Writing or talking about experiences of depression are difficult. Nobody wants to be judged negatively. Admitting to being out of control, or 'marginally effective' leaves you vulnerable. However we don't have the same hesitation about telling people we were laid low or bedridden with the 'flu last month. As a culture we feel that physical ailments come and go, and can be 'recovered' from. But there is a feeling that mental illnesses only occur to those that are susceptible to them, and as such these people are more likely to become unstable in the future.
I guess I used to believe this, without giving it much thought, but my experience a couple of years ago has changed that perception.
My Story
I thought I knew what depression was:
It is feeling bad. Bad enough to shun other people, lock yourself away. And if it is bad enough, to kill yourself.
The point is that I thought I knew what depression was, but I really had no idea. Partly because it is not the sort of thing that is ever discussed. If you knew of anyone who had suffered with depression you would never bring it up. If you were young and did bring it up the adults would quickly shush you.
If you have read part one, you will know that around the age of 9-11 years old I was contemplating suicide. But that was not depression. That was desperation. That was someone powerless trying to find a way to make a change bigger than them self in the world. And the fact that I could not go through with it, despite the logic I employed, showed that self preservation was alive and well.
At 28 my marriage broke up. My wife left me, kicked me out actually, as she was having an affair at the office and no longer saw a future for us. Following that I thought I was depressed. But I now know that wasn't depression either. I was desperately unhappy, miserable and stressed. I had nowhere to live, my new business didn't survive the break up so I had no income. I was broke. And I was facing a future I didn't plan for or expect. Miserable, yes. Depressed or mentally ill, no.
Through all of those experiences I thought I knew what depression was. I told myself that I didn't have it really bad, but that was what it was.
Then three years ago I was made redundant from my job at Telecom NZ, where I had been working for 12 years. On the face of it I was quite happy. I knew it was coming at some point, the role itself was not particularly fulfilling, and although I would miss the salary I was given a good redundancy pay out.
What I failed to recognise was the importance of the social network I had built at Telecom. I hadn't had a real relationship for 8 years, and virtually all of my friends worked for the company. It was just so easy to take this for granted. And from part one, you will understand I have no real relationship with my family.
Over the next few months I found it difficult to find work, or perhaps difficult to decide what work I should be looking for. My money dwindled and I started working part time for low wages to keep paying the bills. I was involved with the local filmmaking community and working on projects with them.
The Dark Time
I can't tell you when depression started to set in. It's like trying to pinpoint the start of a cold, you can tell some of the symptoms when they appear, but not the cold itself. For me I started thinking over and over again about my dwindling bank balance, the fact that I was alone with no prospect of that changing.  –What's the point?!
The phrase What's the point?! repeated itself over and over in my head for days. Weeks. Months.
I came to the completely rational and obvious decision that I should end my life and avoid all the uncomfortable drama that I knew awaited me.
As I sit here writing this I can't imagine thinking that way, but I did at that time.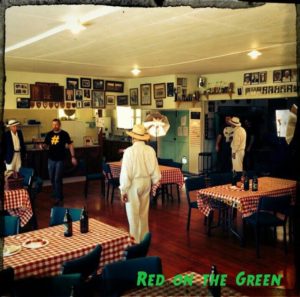 At the time I was producing a short film Red on the Green which we were entering into Tropfest. There were people depending on me so I scheduled my death to occur after our primary shooting, and left a bit of time for any pick ups. There was an innocuous entry in my calendar to mark the last day of my life.
As that day approached I was confronted with a number of invitations or projects that were after D-day. I was vague about them and replied that I would have to consider and get back to them. It was a strange experience.
What was happening on the inside could not be seen by those I interacted with. Only once when the director and writer for Red on the Green came around to my place to go over a few things the week before shooting did anyone notice anything. They thought I was distant, preoccupied and not myself. The truth was that just before they arrived I had finished my suicide video.
Making the video was quite an emotional thing. But probably not in the way that you might think. I was really concerned with how my friends and colleagues might beat themselves up about my decision. In the video I made a few jokes, said I'd had a lot of fun in my life (which I had), and that it was time for me to end on my own terms. The video would be uploaded unlisted on YouTube and then shared to social media the day after my death via Hootsuite. – I thought that was quite cool.
I bluffed my way through the meeting with the Writer and Director, (if you guys are reading this, I feel I should apologise), and things were again on track. I went shopping for the necessary equipment for D-day, and made my plans so that I would not leave an unpleasant surprise for any of my friends or flatmates.
The shooting for Red on the Green was full on. There were laughs. There was stress. There was the unending series of problems that occur on any shoot. I don't think anyone had any idea of what was going on in my head with the clock ticking down in the final two weeks.
After a very long 12 hour day on set on, I think the second day of shooting, I was tired physically, mentally and emotionally. For the first time I thought that maybe I should get a second opinion on my plan. To be clear, I had every intention of still going through with it, I merely needed a second opinion to make sure I was going about it the right way.
So I called a friend, Jamie (not their real name), to talk on the phone. To my surprise Jamie was in town and she asked to meet that night for dinner, I took a bit of persuading as the conversation I wanted would have been a lot easier on the phone. But Jamie could tell something was up.
Turning it Around
It is an awkward conversation to have. But I consoled myself that in ten days it wouldn't matter anyway. I hedged and tried to go with small talk but my mind was consumed with my plan, so eventually I think I just blurted out what was going on and what my plans were, keeping the critical details to myself.
Jamie Could relate and talked of a similar experience.
The detachment from normal reality that I experienced is hard to explain. It is how I imagine people to be when they are hypnotised on stage shows. They can see what is happening and they can see their actions or the words they are saying, but I am sure they are thinking "Why did I just cluck like a chicken?" yet they continue on. I suspect if they started listening to that questioning voice the hypnosis would fail, but they go along with it because of the context of the show.
Jamie knew me well and knew my passion for coaching and writing and challenged me to turn this experience into something of value to the people I left behind and suggested I write a post of my experience. Jamie had the wisdom not to try to talk me out of anything, but to try and understand where I was coming from and to plant some seeds of things that I might want to do in the future. And told me much later, was desperately tying to appear calm while finding a way to stall my plans.
A few days later I sent the blog post Jamie suggested I write. Apparently it reduced Jamie to tears, in my detached state that really didn't mean anything to me. Jamie had hoped this might have changed my mind, or made an impact that would have delayed my plans. But what I sent quite methodically laid out my thinking & reasoning and was written to be posted after my death. My biggest question was how much humour should I include so that it came across as caring but not flippant.
Jamie didn't give up on me however and we talked on the phone daily. I sort of expected Jamie to move onto some other thing and was surprised at the persistence. Also I didn't realise Jamie was doing lots of stuff in the background from the time we first had dinner.
Then one day Jamie had trouble getting hold of me, (I was at work, my phone was switched off). Jamie, concerned,  called the Crisis Team explaining the situation. When I finally got home and switched my phone on the Crisis team had left a message for me. I called and organised to meet with them the next day.
If the initial conversation with Jamie was awkward, then talking to the guys from the Crisis Team felt brutal. I felt like I was in an interrogation room with a couple of hardened cops. I couldn't help but feel we were on opposing sides. They pressed me for details of things, and I refused to answer many of their questions. I did ask what they could do to stop me, and they admitted they could do nothing. This was a reflection of my mindset at the time. It was unlike me but I felt very antagonistic, a feeling I had built up internally leading up to the appointment. They were calm and professional, and took a lot of my antagonistic attitude out of me, but I still wasn't exactly at ease.
But they did ask me whether I wanted to see Red on the Green finished, and to find out how it went in the competition.
That planted a seed.
I started pondering, wondering how the film would turn out. Whether it would be good enough to get to the finals like the one we did the year before. This time as Producer I might be on stage if we got to the finals. Imagine if we won.
What I didn't realise at the time is the lengths to which Jamie had gone behind the scenes. Calling lifeline and the police. It was Jamie that suggested the crisis team ask about Red on the Green and plant that seed. Jamie also talked to mutual friends, and told them of the situation and made sure that they were keeping an eye on me when they could, and to engage with me when they could. Taking some time off work, and was texting me a few times a day initially and calling every day, backing off when there was some support around me.
What's the point?! was still echoing in my head, but becoming fainter as I had new things to focus on.
My road to recovery was by no means a quick process. Initially I rescheduled my death by a couple of weeks. But I needed to have things to work towards each day or each week. Jamie helped me with that through our regular talks. These little goals were often very small, like tidying the kitchen, because becoming overwhelmed was a real threat. If I pushed too hard and lost the plot there was a chance that I would do something 'stupid'. Going slow was painful for a stress junkie like me!
I stopped drinking wine every night. I went to the gym class I enjoyed at the gym at least 3 times a week. All of this was one day at a time, because I still couldn't see a future. The horizon was very close, and I felt I was sailing on the precipice of the edge of the world.
Eventually I decided I should reschedule my death again until we submitted the film. Then I rescheduled further to find out whether we were in the finals. And eventually rescheduled until after the finals.
It wasn't all about the film though, I got involved in some more projects to keep myself busy, including starting The Chris and Sam Podcast, which now has 84 weekly episodes published. I got on the organising committee for TEDx Ruakura, we did the inaugural event last year, and this year I am the speaker coach.
Eventually my rescheduled date popped up on my calendar. I looked at it as if I had no idea why it was there. Almost as if I had awoken from a dream. I had been so engaged in life that it had totally drowned out "What's the point?!"
Now I don't know for certain that I was experiencing depression. I never talked to a doctor or counselor, and sought neither diagnosis nor treatment. I have made no study of mental illness, and have researched nothing. All I have done here is lay out my experience in the hopes that it might help someone else with some insight on their own situation or the situation of a friend.
– And of course in the hope that it will spark a conversation.
Lessons
If you know someone who is struggling, help them. Even with small things like the yard or the washing or giving them a lift to town. It eases them back from overwhelm.
And if nothing else, talk about your own experiences with mental illness or with those you have helped through mental illness. If you find this post useful, then share it and discuss it with your friends and family.
The more we bring mental illness out into the open and discuss it, we will realise that mental illness does not define us. No more than catching a cold, or having a fever defines who we are. Freed from that stigma, more of us will seek help when we need it.
It maybe someone in your family or a close friend. Today, a month or even years in the future.
It all starts with talking about it.
And finally a big thank you to 'Jamie'. I wouldn't be here if it weren't for you. Sorry to put you through all of that. Thanks!
Resources:
Mental Health Foundation Crisis helplines